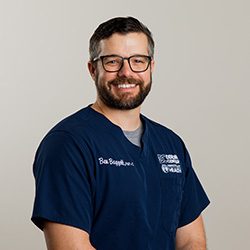 Nurse Practitioner
Ben Baggett DNP, RN, FNP-C
Dr. Ben Baggett is a board-certified Family Nurse Practitioner with multiple years of experience practicing in the middle Tennessee area. Dr. Baggett grew up in Davidson County and completed his bachelor's degree in Nursing at MTSU. From a very young age, he developed a passion for serving the underserved and helping others. 
He then spent six years working as a registered nurse at Nashville General Hospital, primarily serving the incarcerated population of Tennessee in the medical/surgical area.
He then attended graduate school in Memphis, TN at the University of Tennessee Health Science Center earning his Doctorate of Nursing Practice. There he learned to help patients achieve optimal health through evidence-based, holistic medicine.
After graduating, Dr. Baggett spent multiple years in the primary care setting treating patients of all ages. He is passionate about preventive medicine and enjoys working with patients to help them feel their best and achieve their health goals.
He enjoys playing soccer and spending time with his wife and two children.
Nurse Practitioner
Sarah Hodges CNM, RN, FNP-C
Sarah Hodges is a dual-board certified Family Nurse Practitioner and Certified Nurse Midwife. Sarah grew up in Sumner County and completed her bachelor's degree in Missions at Randall University in Oklahoma with an emphasis on human trafficking survivors. She then co-founded a 504(3) non-profit organization focused on the systems in place for human trafficking survivors as they sought to rebuild their lives after trauma, as well as worked at a non-profit in Nashville focused on leadership development.
These experiences ultimately led Sarah to want to return to higher education for a degree that would allow her to better influence and serve the individuals in her community and abroad.
Sarah attended Vanderbilt University School of Nursing, earning her Master of Nursing degree with emphases in Family and Nurse-Midwifery practice. This incredible educational experience has equipped her to serve the whole of the family unit – from prenatal care to end of life. Sarah is passionate about the holistic health of a family and brings an excitement to reproductive health and bodily autonomy for individuals. She also believes there is nothing more magical than witnessing the birth of a tiny human.
Sarah cares for the earth, enjoys gardening, and playing volleyball. She loves spending time with her partner and the coolest kid on the planet.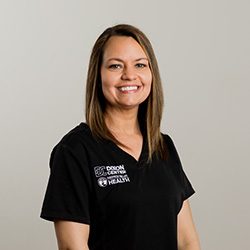 Office Manager
Arrah Addison
Arrah has been with our office for 8 years and is passionate about serving others. She attended Middle Tennessee State University and Nashville State Community College where she developed her leadership skills. Arrah is proud to be part of such a progressing office that has helped so many people for so long. She takes pride in hand selecting our staff to create an outstanding team of medical professionals to care for our patients.
Arrah is a native of Dickson, Tennessee and spent much of her childhood singing country music with her grandfather on the local radio and at Dickson's venue, The Grand Old Hatchery. She is vested in Bellevue where she lived for many years and married a "Bellevue boy", whom she has now been married to for 20 years and they have to beautiful children. Arrah is very active in her church, is an avid reader, and enjoys spending her time with family.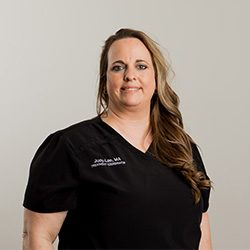 Patient Advocate
Judy-Lee Carter
Judy-Lee has spent over 7 years in our office, starting out as a Medical Assistant, then moving to the position of Front Desk Manager, and now she has been promoted as our Patient Advocate. One of the most important roles in our practice is to offer services to patients that will help them with their overall health.
As your Patient Advocate, Judy-Lee will support all your healthcare needs by helping you with a variety of tasks from getting your appointments scheduled with your provider in our office, coordinating your healthcare needs with other offices, as well as helping you maximize your health insurance benefits. We all know health insurance can be very confusing, and Judy-Lee has expertise on the matter and will be an ally with your insurance company to ensure they are fulfilling their obligation to you as their member.
Judy-Lee is a middle Tennessee native who studied medical courses at Columbia State Community College. She has years of experience in medical and chiropractic care as she is a Licensed Medical Assistant and a member of the Chiropractic Assistants of Tennessee. She has raised FOUR beautiful girls and has lived to tell the story! She is always willing to sit down and discuss your healthcare needs. Stop by our office today and ask to speak with Judy-Lee, she's here for our patients in every way!
OFFICE HOURS
---
Monday
9:00am - 6:00pm

---
Tuesday
9:00am - 6:00pm
---
Wednesday
9:00am - 6:00pm
---
Thursday
9:00am - 6:00pm
---
Friday
9:00am - 12:00pm
---
Saturday & Sunday
Closed
Harpeth Valley Health Center