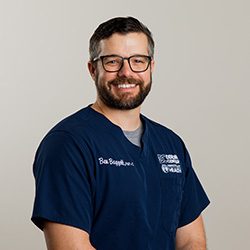 Nurse Practitioner
Ben Baggett DNP, RN, FNP-C
Dr. Ben Baggett is a board-certified Family Nurse Practitioner with multiple years of experience practicing in the middle Tennessee area. Dr. Baggett grew up in Davidson County and completed his bachelor's degree in Nursing at MTSU. From a very young age, he developed a passion for serving the underserved and helping others. 
He then spent six years working as a registered nurse at Nashville General Hospital, primarily serving the incarcerated population of Tennessee in the medical/surgical area.
He then attended graduate school in Memphis, TN at the University of Tennessee Health Science Center earning his Doctorate of Nursing Practice. There he learned to help patients achieve optimal health through evidence-based, holistic medicine.
After graduating, Dr. Baggett spent multiple years in the primary care setting treating patients of all ages. He is passionate about preventive medicine and enjoys working with patients to help them feel their best and achieve their health goals.
He enjoys playing soccer and spending time with his wife and two children.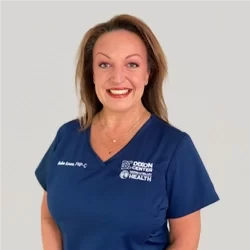 Family Nurse Practitioner
Heather Karnes, FNP-C
Heather Karnes, FNP-C, is an experienced Family Nurse Practitioner with a rich history in the field of healthcare. With a career spanning over two decades, Heather's journey began as a Registered Nurse in Houston in 1999, where she honed her skills in emergency medicine. Her dedication and passion for providing exceptional patient care led her to Nashville in 2012, where she continued to excel in the fast-paced world of emergency medicine.
During her time in Nashville, Heather played a pivotal role in the development of the city's second trauma center, showcasing her commitment to enhancing healthcare services in the community. Building upon her foundation, Heather pursued advanced education, earning a Master of Science in Nursing from the University of Alabama at Birmingham in 2020. This achievement marked a significant milestone in her career, as she transitioned to become a Nurse Practitioner.
Heather's focus shifted towards urgent care and primary care, where she brings her extensive knowledge and experience to provide comprehensive and compassionate medical services. Her dedication to patient well-being is mirrored in her personal life as well. Married to an Army veteran, Heather and her husband are ardent supporters of the military and veterans. Their love for Nashville's sports teams is matched only by their enthusiasm for community engagement.
In their free time, Heather and her husband are involved in various activities that promote health and camaraderie. From co-managing a male soccer league in Bellevue to embracing the Pickleball trend, they thrive on fostering connections both on and off the field. Their home is a lively sanctuary filled with the joyful company of five dogs.
Heather Karnes exemplifies a true healthcare professional, merging her expertise with a genuine love for her community and a zest for life's diverse experiences.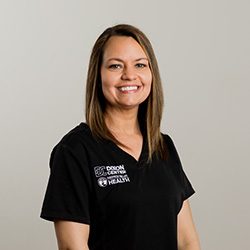 Office Manager
Arrah Addison
Arrah has been with our office for 8 years and is passionate about serving others. She attended Middle Tennessee State University and Nashville State Community College where she developed her leadership skills. Arrah is proud to be part of such a progressing office that has helped so many people for so long. She takes pride in hand selecting our staff to create an outstanding team of medical professionals to care for our patients.
Arrah is a native of Dickson, Tennessee and spent much of her childhood singing country music with her grandfather on the local radio and at Dickson's venue, The Grand Old Hatchery. She is vested in Bellevue where she lived for many years and married a "Bellevue boy", whom she has now been married to for 20 years and they have two sons. Arrah is very active in her church, is an avid reader, and enjoys spending her time with family.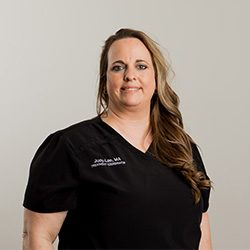 Patient Advocate
Judy-Lee Carter
Judy-Lee has spent over 7 years in our office, starting out as a Medical Assistant, then moving to the position of Front Desk Manager, and now she has been promoted as our Patient Advocate. One of the most important roles in our practice is to offer services to patients that will help them with their overall health.
As your Patient Advocate, Judy-Lee will support all your healthcare needs by helping you with a variety of tasks from getting your appointments scheduled with your provider in our office, coordinating your healthcare needs with other offices, as well as helping you maximize your health insurance benefits. We all know health insurance can be very confusing, and Judy-Lee has expertise on the matter and will be an ally with your insurance company to ensure they are fulfilling their obligation to you as their member.
Judy-Lee is a middle Tennessee native who studied medical courses at Columbia State Community College. She has years of experience in medical and chiropractic care as she is a Licensed Medical Assistant and a member of the Chiropractic Assistants of Tennessee. She has raised FOUR beautiful girls and has lived to tell the story! She is always willing to sit down and discuss your healthcare needs. Stop by our office today and ask to speak with Judy-Lee, she's here for our patients in every way!
OFFICE HOURS
---
Monday
9:00am - 6:00pm

---
Tuesday
9:00am - 6:00pm
---
Wednesday
9:00am - 6:00pm
---
Thursday
9:00am - 6:00pm
---
Friday
9:00am - 12:00pm
---
Saturday & Sunday
Closed
Harpeth Valley Health Center